You love to KISS, right? Aside from smooching, the "keep it simple stupid" approach to date night is sometimes best! Summer fun doesn't have to be elaborate or expensive to be enjoyable. These 30 ideas will transform you from busy grown-ups to fun-loving kids with simply playful summer date nights.
1. Build a sandcastle. 
Don't just sunbathe on the beach… skip rocks, hunt for critters and grab a pail to tackle this summer bucket list idea. Pack a picnic lunch and head out to Lake Lure Beach and Park, Lake Powhatan and Campground, Lake James State Park in Marion, Wildcat Beach in Banner Elk, or Lake Glenville near Cashiers.
2. Catch fireflies. 
Lighten up date night with the magic of nature's blinking lights. You know you still think these bioluminescent bugs are cool!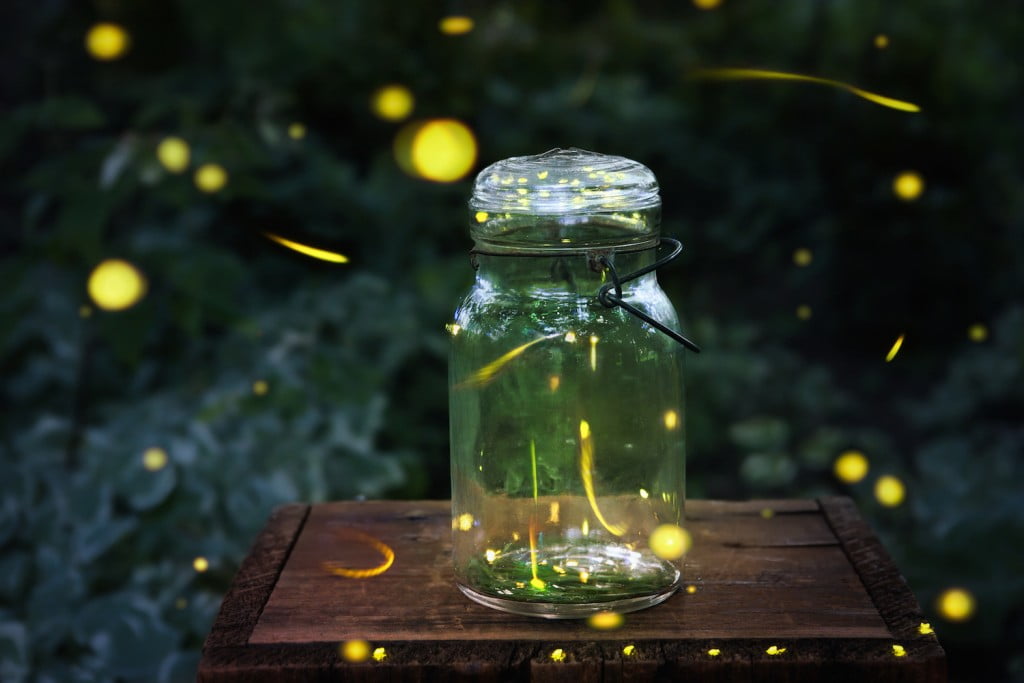 3. Roast s'mores.
Bite into classic summertime ooey-gooey yumminess.
4. Get a treat from the ice cream truck or cafe. 
Grab a cone and stroll the neighborhood hand-in-hand. Cool ice cream spots such as Sunshine Sammies conveniently located downtown Asheville behind the Orange Peel, The Hop or The Hop West, Ultimate Ice Cream is just a few steps away from the Grove Park neighborhood off Charlotte Street, and Kilwins Asheville.
5. Pick wildflowers on a hike.
Explore parks and pastures picking flowers along the way to make a simple arrangement. Cruise the banks of the French Broad River hand in hand at Carrier Park and the French Broad River Park.
6. Play Frisbee or Disc Golf.
Pass the day tossing this childhood toy or, for an adult version, play a round of Frisbee golf. Richmond Hill Park, Lake Julian Park in Arden, Black Mountain Disc Golf Course, Waynesville Disc Golf Course, Jackson Park Disc Golf Park in Hendersonville, UNCA Disc Golf Course, Sand Hill Nature Trail Disc Golf Course.
7. Go for a bike ride.
Take a step toward ultimate date night leisure with a twosome tryst. Carrier Park, French Broad River Park, Bent Creek, Adventure Center of Asheville.
8. Fly a kite.
Be blown away by the beauty of this cheap entertainment.
9. Go to a carnival or fair.
Games, rides, prizes, fried food… sounds like a summertime recipe for date night. North Carolina Mountain State Fair
10. Try geocaching.
Have a gem of a date night exploring together for hidden treasures.
11. Write your name or love sentiments with sparklers.
This is an easy way to add a spark to your date night with playful art!
12. Ride a carousal or roller coaster.
Amusement rides aren't just for kids but for the young at heart. Buckle up for exhilaration! Make the drive to Pigeon Forge for Dollywood or Carowinds in Charlotte.
13. Belly flop onto a slip-n-slide.
Guaranteed summer fun! Buy a slip-n-slide or make your own.
14. Play backyard games.
Challenge your partner to competitive outdoor games.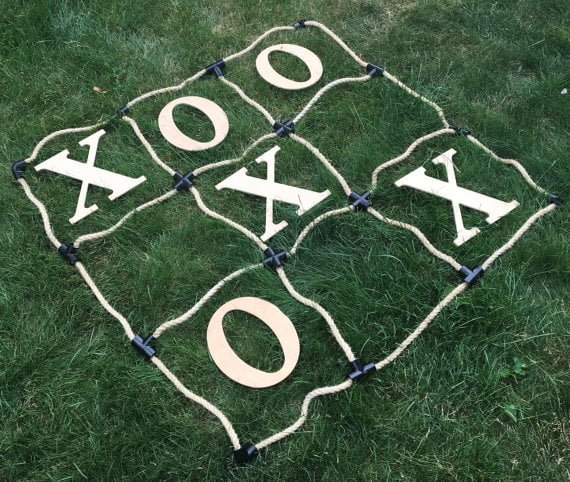 15. Play Marco Polo.
Add a splash of fun to your poolside date. Take a dip at Malvern Hills Pool, Erwin Pool, East Asheville Recreation Pool or Patton Pool in Hendersonville. Or an unexpected splash at Splashville downtown in Pack Square.
16. Kiss or dance in the rain.
It's hot… so why not naturally cool off (and play) with your love during a sun shower. And don't forget to look up at the rainbow afterwards.
17. Swing by the playground to hit the swings.
Just park it for a rocking date night chat and youthful shenanigans galore.
18. Take a tube down a river.
No time for a summer cruise? Simplify by using your own tube on the river.
19. Picnic in the park.
There's nothing quite as romantic as a laid-back picnic surrounded by nature!
20. Go fishing.
Play footsy as your feet dangle off the rocks and reel in waterside date night memories.
21. Watch fireworks.
For a dynamite night, watch a fireworks show with your one and only firecracker. Biltmore Summer Series
22. Read a book (aloud).
Make a novel date night lounging together in a hammock reading pages of poems and love stories.
23. Host a backyard movie night.
Create a DIY production for a blockbuster night.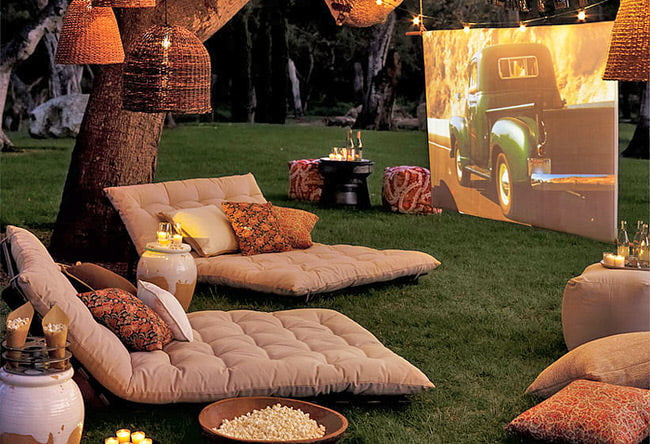 24. Have a living room sleepover.
No time for a hotel staycation? Try a new spot for slumber and other nighttime things (wink wink).
25. Make fresh-squeezed lemonade.
Pucker up to summer's freshness by squeezing lemons for homemade deliciousness. Skip hosting a lemonade stand of course but, if desired, mix in some vodka.
26. Skinny dip!
The naked truth is that swimming in the buff is liberating. Dare to dive into the pool or lake sans bathing suit.
27. Watch a movie outdoors. 
Make your car your very own theater VIP space… bring snacks, wear comfy pajamas and engage in PDA without judgment. Or check out Asheville Outdoor Cinema or Movies in the Park happens downtown in Pack Square.
28. Watch the sunset (and rise).
Let the sun be the superstar of date night. Classic… beautiful…
29. Stargaze laying in the grass.
A starry moonlit night can be out-of-this-world.
30. Pick fresh fruit.
Head to a local u-pick with the apple of your eye for flavorful fun. Cloud 9 Farm in Fletcher, Dogwood Hills Farm, Green Hill Urban Farm Asheville, Obermiller's U-pick strawberries in Hendersonville, Flying Cloud Farm in Fairview, Coston Farm & Apple House in Hendersonville, Zimmerman's Berry Farm in Marshall, Imladris Farm Fairview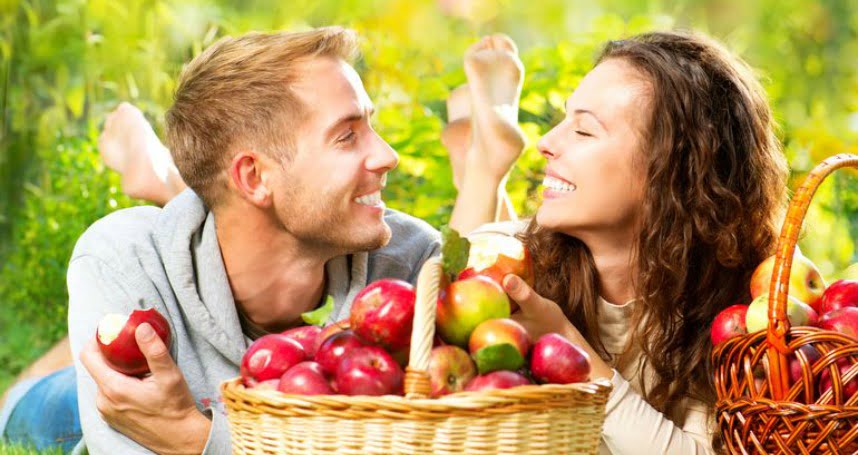 Feature Image Photo Credit: @capnrando