Written in collaboration with Nancy DeVault.
A camping trip can be as romantic as any other getaway. A lack of preparation, however, could turn your wild excursion into a relationship survival scenario ─ so don't get hangry, cold or lost without a map! Make sure you pack all essentials to stay happy campers without wild mishaps. The following list is by no means a complete camping 
checklist
, but rather some fun additions of must-have camping gear for Asheville camping couples!
BioLite CampStove 2: No need to chop wood. Just gather some twigs to create a smokeless fire that can cook meals and boil water in minutes while turning its heat into usable electricity. Compatible with BioLite's KettlePot and Portable Grill, cook up wood-fired meals and charge devices using only small sticks.
Decorative Lights: If you're camping for a long weekend, you might as well spruce up your campsite. Hang these fun retro camper lights on surrounding trees for festive illumination.

Doggie Sleeping Bag: Are you bringing your furry friend along? Make sure Fido is snug in a sleeping bag too!
Duo Sleeping Bag: Single sleeping bags don't encourage snuggle time. Instead, make sure you've got snuggle time in the bag with this cozy dual sleeper.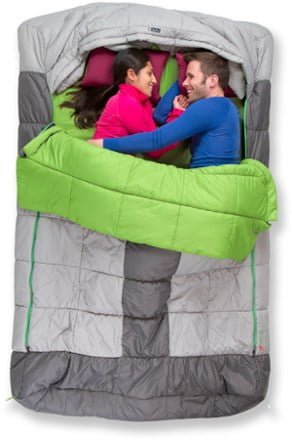 ECOlunchbox: With camping as a hobby, you probably care about the environment. Claiming to be "healthy for people and the plant," ECOlunchbox offers a line of plastic-free storage containers perfect for outdoor dining, such as the camping tray (a portioned plate) and the adventure kit (a 3-tiered lunch box with stainless steel spork and pot gripper). The handy pot gripper allows campers to heat things up over a camping stove.
Eno Hammock: Why opt for standard camping or tailgate chairs when you can lounge in a Eno Hammock? Whether you're camping in the woods or scaling a mountain, this lightweight gear is easy to bring along so you can truly relax and soak up your surroundings.  Fun fact: Eno Hammocks were started by two brothers right here in Asheville! You can find Eno Hammocks at Mast General Store.
Nite Ize Reflective Rope: When nature calls in the middle of the night, don't trip on hard-to-see tent ties. Reflective rope is a nice safety feature. Consider wearing headlamps at night too… you might laugh at your love but they are a camping essential.
Oru Kayak: Use your origami skills to transform a compact, lightweight box into a kayak in minutes. How awesome is that?!
Portable Shower:Yes, you want to have a wild adventure with your fellow camper, but don't smell like a wild animal! Stay fresh with the RinseKit, a portable shower that uses the pressure of a garden hose without pumping or batteries.
Rainbow Flame Sticks: Campfires are already gorgeous with amber hues. Add an extra spark of color with rainbow flame sticks.
Stainless Mini Expresso: If creepy critters kept you up all night, recharge with this portable mini stove-top espresso maker.
Written in collaboration with Nancy DeVault.
Nancy DeVault is the managing editor of Date Night Guide. She also contributes to publications such as Babble, AmeriDisability Services Magazine and Orlando Magazine. She enjoys outdoor adventures with her husband and toddler.